16
Mar
Trainer Jenna is here with another tasty and healthy recipe!
I am currently in love with chickpea noodles. I struggle getting enough protein in my diet but chickpea noodles have been a major help. Banza is a very popular brand of chickpea noodles but they are becoming more popular and I can usually buy different brands at lower price points. One of my favorite recipes to make with my chickpea noodles is Turkey Taco Pasta.
For this recipe you will need:
Lean Ground Turkey
Chickpea Pasta
Greek Yogurt
Shredded Cheese
Taco Seasoning
In a pot bring water to a boil, then add chickpea pasta. Boil pasta according to directions on the box. In a separate pan brown the ground turkey and add in taco seasoning. Instead of buying premade taco seasoning you can make your own taco seasoning using chili powder,cumin,pepper,garlic powder,onion powder, paprika and cayenne pepper. Rinse the chickpea pasta and measure out one serving size. Next measure or weigh one serving size of the cooked ground turkey and add in with the pasta. Sprinkle 2 tablespoons of shredded cheese on top of the ground turkey and pasta. Microwave for 20 seconds or until the cheese is melted. Then top the mixture off with one tablespoon of fat free plain greek yogurt. I substitute sour cream for greek yogurt to get the extra protein. I like to mix everything together before eating.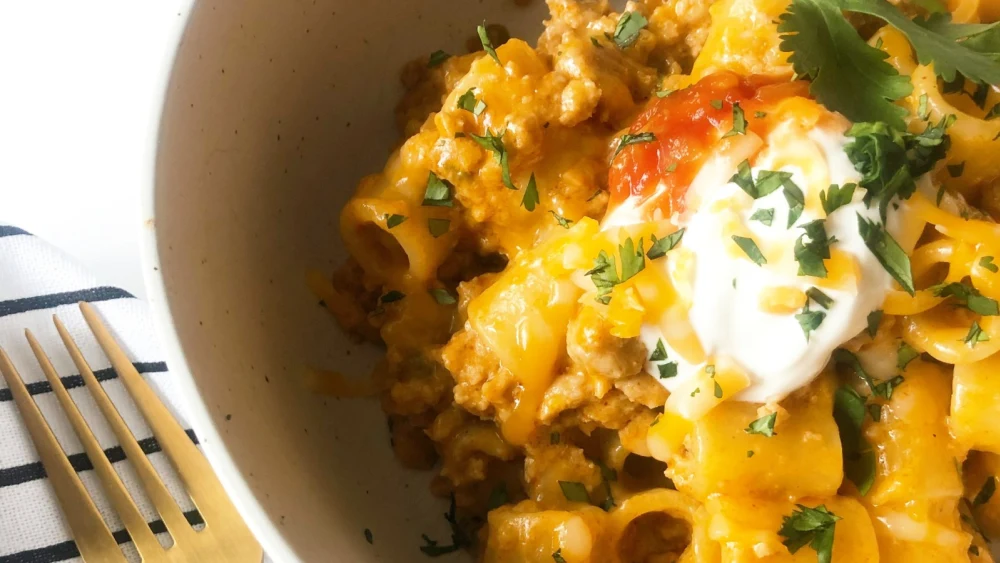 Macros for this recipe will vary depending on serving size and brand of products that you use but for an estimation one serving of Turkey Taco Pasta  is about 418 calories. The breakdown of these calories consists of 14 grams of fat, 41.6 grams of carbs, and 38.4 grams of protein. I feel this is a pretty balanced meal across fat, protein, and carbs. It's also delicious and easy to reheat.
Interesting in personal training and nutrition with Jenna? View her contact information here.