12
Sep
These oatmeal breakfast cookies are super easy to make and are great for a make ahead breakfast or snack.
This is a super simple recipe and what you choose to add to it, is what will keep it healthy.
Old Fashioned Oats: I prefer to look for the gluten free version, usually buy the Bob's Red Mill brand
Flour: I make mine with gluten free all purpose flour, but you can use oat or almond flour if you prefer.
Coconut Sugar: You could also use brown sugar if you prefer, I like coconut sugar because it has a significantly lower GI. Here is the link to the brand I use.
Pure Maple Syrup: You could also use honey. Pure maple syrup has less additives then "pancake syrup". I also like maple syrup over honey as honey can cause digestive inflammation if you are sensitive.
Plant Based Milk: I like almond milk, but you can certainly use regular milk if you prefer it.
Egg substitute: I like using the flax egg, eggs are one of the most common allergy causing foods. I have not tried this recipe using a regular egg.
2 1/2 cups old fashioned oats, gluten free certified if necessary
3/4 cups flour, gluten free or all purpose
1/4 cup coconut sugar
1 teaspoon baking powder
1/2 teaspoon ground cinnamon
1/8 teaspoon salt
1/2 cup + 1 tablespoon non-dairy milk (I like almond)
1/4 cup maple syrup
1 flax egg (1 Tbsp ground flax mixed with 2 1/2 Tbsp water, let sit for a few minutes)
1 teaspoon vanilla extract
1 1/2 teaspoons lemon zest
2 teaspoons lemon juice
1/2 cup dried blueberries or any fruit you like (you could also use fresh)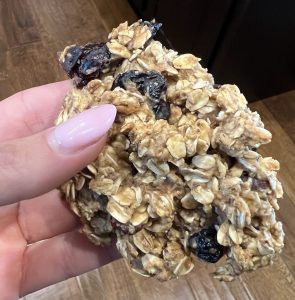 Pre-heat oven to 350 degrees F and line a large baking sheet with parchment paper.
Add all dry ingredients to a large bowl and stir.  Next, add all remaining ingredients and mix again until everything is combined. Use a 1/4 cup scoop to scoop the batter onto the parchment paper.  Pat the tops down a little and bake cookies for 15-17 minutes, until firm and cooked through.  Let cool on a wire rack before eating.
If you are tracking macros and need to get accurate serving sizes, do the following:
Weigh out all cookie batter in grams, for example, mine was 640 grams. You will then divide that by how many cookies you plan on making. I wanted 12. You then can weigh out each spoonful of batter before putting it onto the cookie sheet.